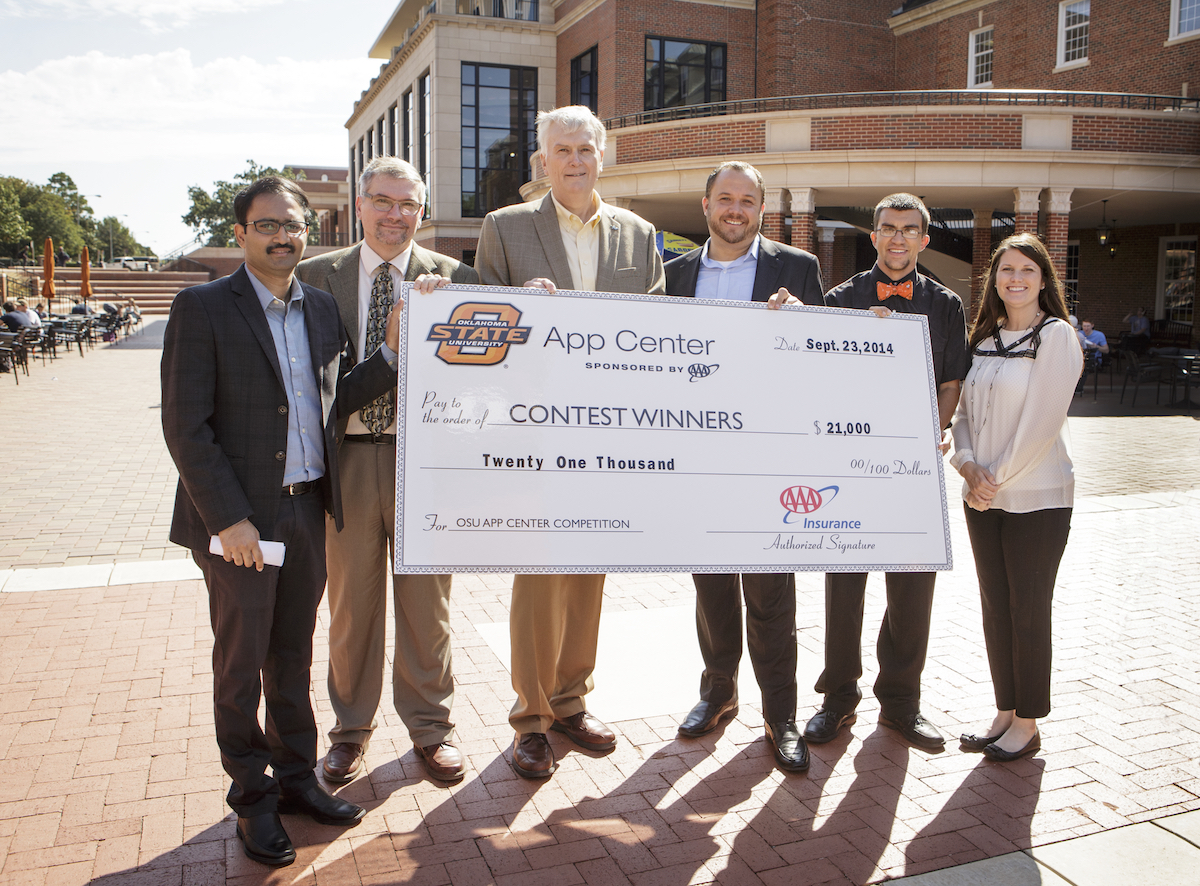 What Can CFR Do For You?
The Office of Corporate and Foundation Relations works with organizations to strategically align their philanthropic investments in areas within OSU that will strengthen mutually beneficial relationships and accomplish the donor's university and community priorities. Corporations and foundations may choose to support OSU in many of the same ways individuals do. Scholarships, professorships, research, facilities, community outreach and countless other avenues exist to influence tomorrow's community leaders.
---
Did You Know...
AAA is proud to support the OSU App Center. We believe the App Center will be a space that fosters new concepts and creative app ideas across Oklahoma State University's ecosystem. The mission of the OSU App Center is to be a catalyst for ideating, developing mobile applications at OSU. Our Goal is to provide a platform for app development where student, faculty, alumni, and companies converge.
Learn more about this innovative partnership at appcenter.okstate.edu.
---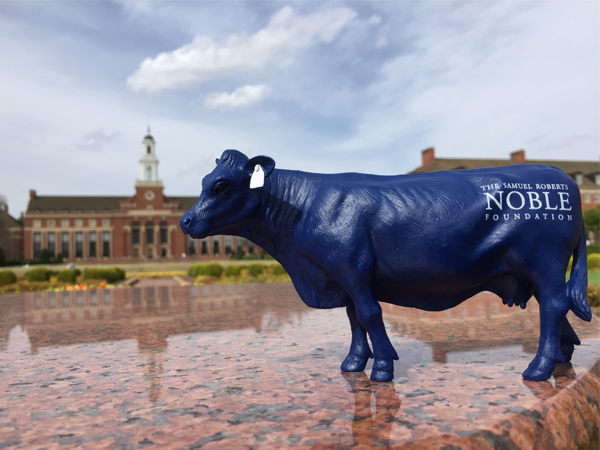 Donor Spotlight - Samuel Roberts Noble Foundation
Happy 70th anniversary to The Samuel Roberts Noble Foundation! To celebrate their 70th anniversary, the Noble Foundation has sent a Blue Cow to the programs and organizations they support.
The Samuel Roberts Noble Foundation has been a long-time supporter of Oklahoma State University investing in a variety of passions across our campuses. Your impact has been UDDERLY transformative. Thank you for your decades of continued support of the OSU family.
Thank you, Samuel Roberts Noble Foundation, for your continued support of Oklahoma State University students, faculty, facilities and programs.
---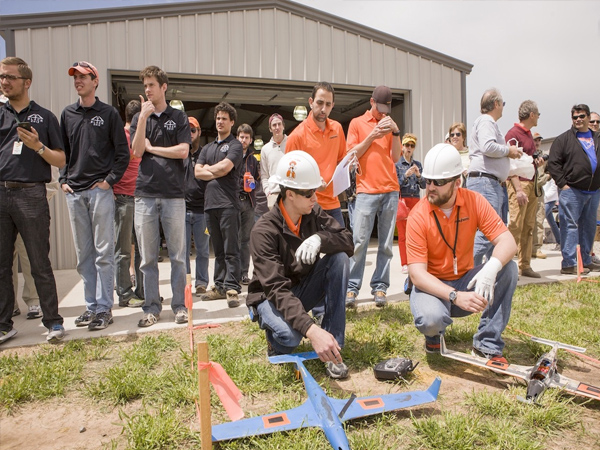 Corporate Branding Opportunities
A great way to provide corporate branding on our campuses is through event or program sponsorship. Below are a list of events that are in need of sponsors. Click below to learn more about these OSU programs and events. If you are interested in sponsoring one of the events below, contact us at cfr@osugiving.com.
OSU Speedfest - Speedfest is an exciting, high-speed aircraft design competition. There are three flight classes that allow for teams to enter at different levels of difficulty and interest.
Engineering Design Challenge 2017 (OSU-Tulsa) - Led by OSU-Tulsa engineering faculty, the Engineering Design Challenge provides an excellent opportunity for students to learn the basic principles of engineering design, problem-solving and teamwork in an environment that is fun and rewarding.
Wine Forum 2017 - The mission of the Wine Forum of Oklahoma is to promote wine's role with food; to educate students and the public on wine's contribution to a healthy lifestyle when used in moderation; to increase recognition of the Oklahoma State University School of Hotel and Restaurant Administration; and to recognize Oklahoma-connected wine producers and purveyors.
A Stately Affair 2017 - A Stately Affair in Tulsa is a scholarship fundraiser which OSU recognizes the icons for OSU in Tulsa and honors their significant contributions to the community and state.
OSU Rodeo Team Travel - You can help fund the transportation cost for the 25 student members of the OSU rodeo team.
Three Minute Thesis (3MT®) Sponsored by Halliburton - Students have only 3 minutes and one static slide to convey to their audience what they do and its importance in a manner that makes their hearers want to know more! Since its inception, enthusiasm for the 3MT® concept has grown with the 3MT® adoption by numerous universities. OSU first held a 3MT® competition in 2013 with our winners competing against 3MT® winners from other universities in the Conference of Southern Graduate Schools (CSGS) regional 3MT® competition.
CEAT Summer Bridge Program - Summer Bridge is an 18-day residential, on campus, preparatory program for freshmen students who have been accepted to Oklahoma State University and who plan to study a major in the College of Engineering, Architecture and Technology (CEAT). This program is designed to guide incoming freshmen as they transition from high school to the academic rigors of CEAT coursework through review courses, mock exams, orientation seminars and engineering design projects. In addition, the students will build relationships with peers, faculty and staff, and start the process of building strong study habits with the assistance of CEAT upperclassmen as mentors.
OSU Energy Communications Camp 2017 - The OSU Energy Communications Camp provides a hands-on learning opportunity for high school students to explore a career that combines the science of energy with the art of storytelling.
Wooly Mammoth Exhibit Sponsorship - Imagine standing in the middle of a real mammoth skeleton, to see it revealed after laying under the earth for thousands of years. You will have an opportunity to see an active excavation, but every visitor to the OSU campus can put themselves in the action if our mammoth display is funded. The OSU mammoth now sits in storage, unseen. Walking across a glass floor with a mammoth underfoot, students and visitors will be amazed by the mammoth, by research being done at OSU, and by this natural wonder of Oklahoma.
Click here for a full list of OSU Summer Camps.
---

Employer Matching
Matching gift companies work with employees to offer additional funding to the specific OSU programs supported by their employees. Employer Matching programs can provide more substantial support for Oklahoma State University.
Click here to see if your company doubles or even triples gifts made to OSU. Don't see your company listed? Add them today! Contact cfr@osugiving.com.
The Proud & Immortal giving society recognizes donors who have given $1 million or more cumulatively to Oklahoma State University. Our corportate and foundation partners have made an enormous impact on OSU throughout our history.
---
Interested in developing a partnership with OSU through sponsorships, program support, scholarships and recruiting opportunities? Contact the office of Corporation and Foundation Relations to help grow your presence on campus.