Ingersoll Family to Name Academic Suite
February 9, 2022 | 7 minute read
New Frontiers
new
frontiers
ferguson
college
of
Agriculture
Ranching has been part of the Ingersoll family since 1915 when Win Ingersoll's great-grandfather, Robert McFarlin, started the McFarlin Ranch. The Ranch was one of the first and largest Oklahoma ranches in the 1900s and continues to thrive today under the guidance of Win's widow, Kay, and the couple's family.
Win and Kay both attended Oklahoma State University in the early 1960s where they reconnected before marrying in 1965. After their wedding, the couple took over the ranch, marking them the fourth generation in the family to manage operations. That tradition has carried on to their daughters, Joleta Ingersoll and Wendy Keener, and Kay hopes it continues to her six grandchildren.
Agriculture and OSU has had a major impact on the Ingersoll family. Both daughters graduated from OSU and loved their time on campus. But not much has changed in Agricultural Hall since then or the six decades since Win and Kay attended.
"I was shocked when I saw they hadn't redone the building," Kay said. "When I think of Oklahoma State, I think of it as an agricultural school, so the better the facility the more that's going to entice kids to come here and major in agriculture, and the better teaching facility is going to be a win-win for the students and the professors."
Kay and Win, who passed away in 2020, have long supported OSU Agriculture with their endowed scholarship for students studying agriculture from the counties in which their ranch resides. They have also worked extensively with the OSU Department of Natural Resources and Ecology Management's faculty and staff to conduct quail research on their land.
With the deep ties to OSU, it was only natural that Win and Kay join the New Frontiers campaign, which continues to raise funds to create a new teaching, research and Extension facility for OSU Agriculture. The couple made the decision to become Cornerstone Donors together, and now the Academic Suite on the first floor also will be an homage to her beloved husband.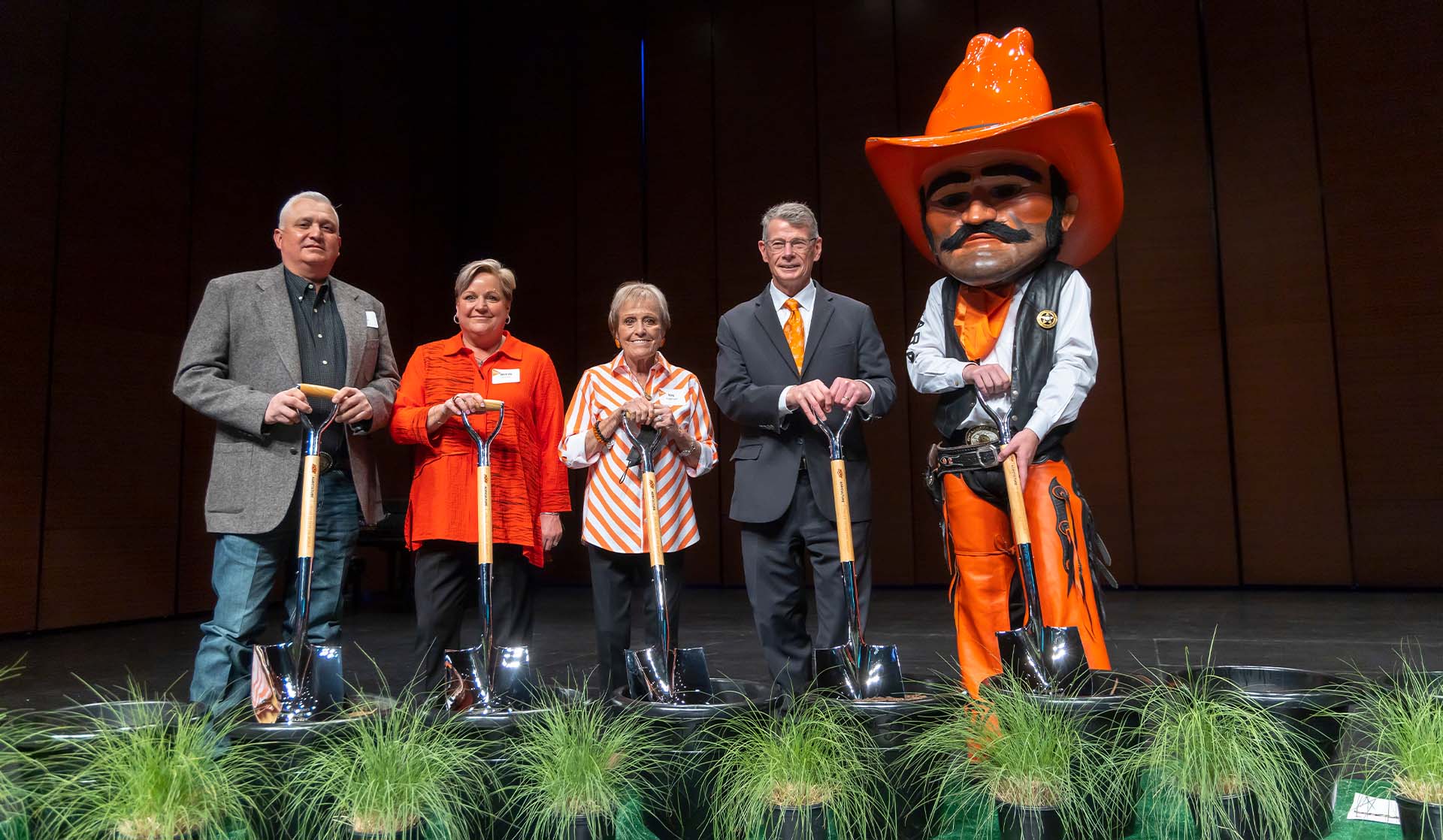 Dee Keener, Wendy Keener, Kay Ingersoll, Dr. Thomas Coon and Pistol Pete during the New Frontiers groundbreaking
Kay sees the space as a touchpoint for all the students when they first enter the building and is excited that she, Win and their family will be honored with a common space that all students can use and benefit from.
Kay said the time spent between classes in gathering areas can be just as important as time spent in the classroom. That is where connections and friendships are made. The New Frontiers Agricultural Hall's improvement on those spaces will allow Ferguson College of Agriculture students to foster those relationships within the building.
"I'm looking forward to the great facility that our students and professors will have," she said. "And I think it is going to be so great for those kids to have a gathering place where they can study together and visit and become more like a family. I think this building is going to allow that to happen."
Those connections can lead to life-long friendships and create an incredible network for students to use throughout their lives and careers.
"My daughters both made friends here at OSU together, and they've stayed close like a tight-knit family," she said. "I think spaces like the Academic Suite will help the next generation of students build a community where they can reach out to each other both personally and professionally. It'll help enhance those relationships and make them feel more like a family."
If you'd like to support the New Frontiers campaign visit OSUgiving.com/New-Frontiers or contact Heidi Williams.