John Groendyke to name Ecology and Water Quality Research Lab
May 26, 2021 | 5 minute read
New Frontiers
new
frontiers
ferguson
college
of
Agriculture
John Groendyke has watched Oklahoma State University's campus transform over the past 20 years and is eager to play a part in the New Frontiers campaign, which will create a new, state-of-the-art, home for OSU Agriculture.
"This is an exciting time," said Groendyke, who is Chairman of the Board and owner of Groendyke Transport, Inc., a 1966 OSU alumnus and member of the 2015 OSU Hall of Fame. "I think the students and professors will really appreciate what this facility has to offer."
Groendyke and his wife, Virginia, are part of the incredible group of Cornerstone Donors who have given $1 million or more to the New Frontiers campaign. Their choice to name the Ecology and Water Quality Research Lab on the second floor of the New Frontiers Agricultural Hall is a nod to the 44 years Groendyke spent as the Wildlife Commissioner for District 8 in Northwest Oklahoma.
"I was involved in a lot of wildlife research while serving the Department of Wildlife, and OSU supported and conducted a lot of that research in conjunction with the wildlife departments," he said.
Groendyke found additional motivation for his naming gift knowing how it would advance the program and help see the building through to fruition. The new facility, he said, will ultimately help OSU Agriculture remain competitive and create even more research opportunities.
"I've long believed we needed to upgrade the facility to remain competitive with agriculture programs in the region," Groendyke said. "This will allow us to attract the quality of students and teaching staff you'd like to have there."
Groendyke also established a maintenance fund for the new facility to ensure it can be upgraded, refreshed, and repaired as needed. He hopes other donors will join him in contributing to the building's maintenance endowment fund.
"You've got to have some endowment funds and provide that advantage," he said. "It's okay to build it, but you've got to take care of it once you get it done."
Groendyke helped celebrate the facility during the New Frontiers Agricultural Hall Groundbreaking Ceremony on April 23. He and other Cornerstone Donors joined OSU Agriculture Vice President and Dean Tom Coon and President Burns Hargis on stage at The McKnight Center to ceremoniously break ground. The New Frontiers Agricultural Hall is expected to open in 2023, and more than 87 percent of the $50 million fundraising goal had been reached as of the end of May 2021.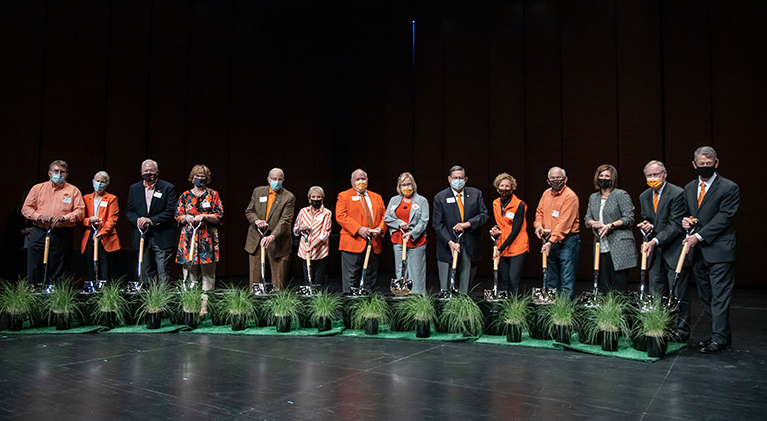 Groendyke on stage with other Cornerstone Donors (left) and examining his groundbreaking commemorative shovel with Larry and Kayleen Ferguson (right)